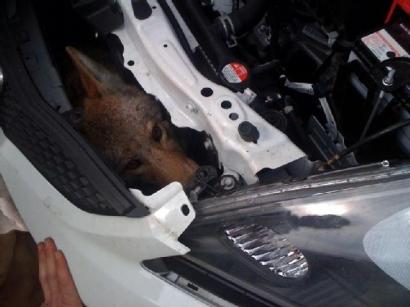 Trappers and predator hunters know that coyotes are tough as nails, but here's a little more proof in a bizarre story out of California. A coyote that was hit by a car near the Utah-Nevada border was taken for a ride all the way to the foothills east of Sacramento and lived through the ordeal. (Go HERE for video and the story or HERE for more pictures).
And here are some details from KCRA News in Sacramento:
Daniel East and his sister, Tevyn, were travelling at about 75 mph
along Interstate 80 when they saw some coyotes running nearby. One of
the coyotes ran in front of the car.
"Right off the bat, we knew it was bad," Daniel East told reporters with Sacramnto news station KCRA.
They said they kept driving because they thought they had killed the animal, so there was no point in stopping.
But it wasn't dead. They found it alive 8 to 10 hours later when they arrived at their stop in California. They called Penn Valley-based Wildlife Rehabilitation and Release and Jan Crowell, a rehabilitation center volunteer, drove over.
When she arrived, East and his sister were taking the screws out of the
car's grill in an effort to get the animal out. Once the grill was
pulled forward, the coyote poked its head out.
"No broken bones,
no internal injuries — nothing," Daniel East said, adding that the
animal only had a few scrapes on one of his paws.
The story was wild enough already, but it took one final twist. The coyote, which the Easts named "Tricky," escaped from the rehabilitation center four days later and hasn't been seen since.
Related Posts